St. Patrick's Day


March 17, 2016


Fort Myers Beach
What a great day this is going to be!!! A day early,but no less fun!! The United Irish trailer will arrived at the American Legion parking lot on Buttonwood Street at 7:15 a.m.  Members who want to participate in the parade should be there.  Else, they can  gather at the Church of the Ascension parking lot to be picked up at around 7:30 a.m.  Finally, we'll go to Santini Plaza at the south end of Fort Myers Beach, where decorating of the float will begin.  Lots of other floats will be getting ready as well.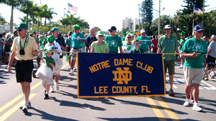 And with a little help from the "buck-a-piece" beers sold by Castaways, the parade will begin at 10:00 a.m.  Usually led by the Lee County Pipe & Drum Corps, our float will proceed for the one mile length of the parade back to The Church of the Ascension for final "hoorays"!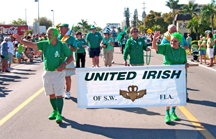 We're  hoping spectators will be ten-deep along the parade route like last year!  With great planning from the United Irish parade committee (Jim Niland, Bill Vernay, and Eileen Knips), we will have enough beads to make it to the finish line, a mile away. 

After a pause at the parade finishing point, the Church of the Ascension, the float will progress to the Parrot Key Restaurant, where everyone can have lunch.  Join us at the restaurant for some good Irish Food and some  Irish refreshments.   The Mustang Car Club will follow the float and play Irish Music in the parade.  They will have a Mustang car show at the Parrot Key Restaurant on Main Street.  Finally the float and its passengers will return to their American Legion after hopefully, a fine, beautiful day.

 
 A  St. Patrick's Day Party at the French Connection in downtown Fort Myers!  Brian Bonner will be there to entertain for the evening, plus other entertainment on many corners of the downtown area providing the perfect touch for an evening of fun!